Get an instant express pallet delivery quote and book online
Palletways is Europe's largest provider of express palletised distribution services.
Use this site to easily book your pallet delivery within the UK or Europe.
All pallets must not cover a floor space more than 100 cm wide and 120 cm deep.
More info
No Services
---
There are no services that collect and deliver to your selected countries.
Pallet floor space guide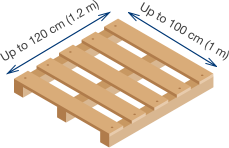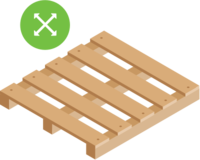 Need a larger pallet?
Is your item larger than the specified pallet size?
Don't worry give us a call and we'll organise an oversized pallet for you.
Give us a call on 01204 589805.